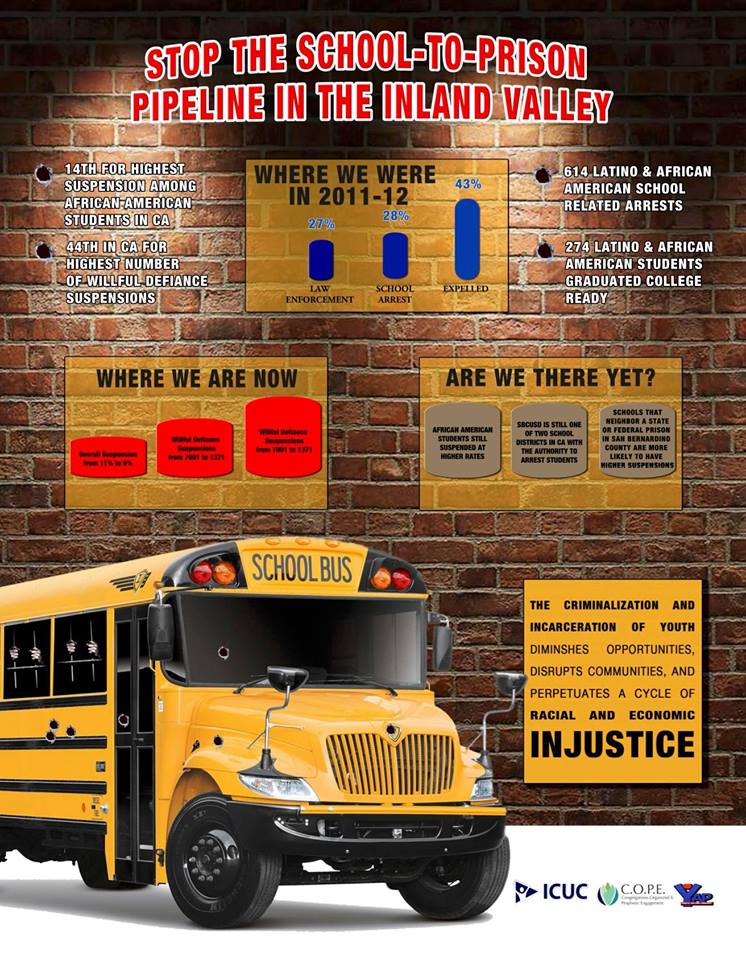 On behalf of COPE, ICUC, and Youth Action Project, we urge you to join us at the San Bernardino City Unified School District Board meeting on Tuesday, May17th at 5:30pm. Nearly 8 months ago, community members urged the district to adopt a new discipline policy to stop the school-to-prison pipeline that often begins with the issuance of a suspension, citation, or school-based arrest. With the support of board several members, a legal team, and district staff, a draft of policy recommendations that incorporates both the district and community recommendations will be introduced as a 1st reading of the policy during the board meeting on the May 17th. A 1st reading is the first step toward policy adoption. We urge you to join us at the board meeting on May 17th to keep the pressure on so that a new policy is adopted before the end of the school year. If you have children in the San Bernardino City Unified School District, been affected by suspensions/expulsion/citations, or desire to see real change take place you need to be there!!!
Recommendation Link:
SBCUSD Draft Policy on Use of Citations 3-4-16.docx
SBCUSD Draft Discipline Reform Resolution – 3-4-16.docx
You can also make your voice heard on Facebook and Twitter during the meeting by using the hash-tag #SB4SchoolDisciplineReform.
For more information, please contact:
Sonya Gray-Hunn
sghunn@copesite.org or (909) 887-3900.